Health 1930
The 1930 plates were similar to the 1929 issue and were produced by etching and contained 80 stamps in 8 horizontal rows. The stamps were printed at the Government Printing Office, watermarked NZ and star and comb perforated 14.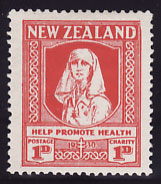 Stanley Davis was responsible for the vignette while L C Mitchell was responsible for the frame. In the 1930 issue Help promote health replaced Help stamp out tuberculosis used in 1929. For the 1929, 1930 and 1931 issues, the 1d surcharge was denoted Charity. From 1932 onwards this was changed to Health.
Again the extra charge went towards supporting health camps.
The original plan for the 1930 issue was for the Smiling Boy design that was later used for the 1931 issue, but the die proofs from Perkins Bacon were unsatisfactory and so the Government Printer quickly modified the 1929 design.
Sheet Layout
There were no plate numbers on the sheets, but buffer bars were added to the top of the plate. and sheet numbers appear at the top right as can be seen in the example.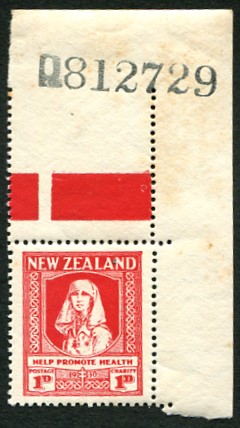 The paper used for the printing was the same as that used for the GV definitives and was suitable for 240 small sized stamps. When divided in two, it was suitable for two sheets of 80 of the larger Health stamps. As the paper was divided in two, only half the printed sheets have sheet numbers at top right.
The paper had letter watermarks in the margins. To ensure that the letter watermarks did not appear on the printed stamps, the sheet of stamps printed on the right hand half have the sheet number and are skewed to the left. That means that the sheets have a wide margin on the right and a narrow margin on the left. Sheets of stamps printed on the left hand half sheet are skewed to the right and so have a wide margin on the left and a narrow margin on the right.
Dates and numbers
The 1930 stamp was issued on 29 October. The Health stamps for 1929-31 were demonetized on 1 January 1935.
1,000,000 of the 1930 issue were printed and the sales were only 215,543. In 1931, after examination of the stock of obsolete stamps, 484,720 of the 1930 issue were destroyed. That leaves a significant number unaccounted for.
Dates:
1930 issued 29 Oct 1930, withdrawn 28 Feb 1931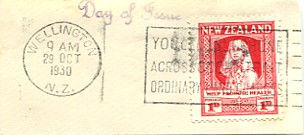 1930 First Day
Example on piece of the 1930 1d postmarked in Wellington on first day of issue 29th October 1930.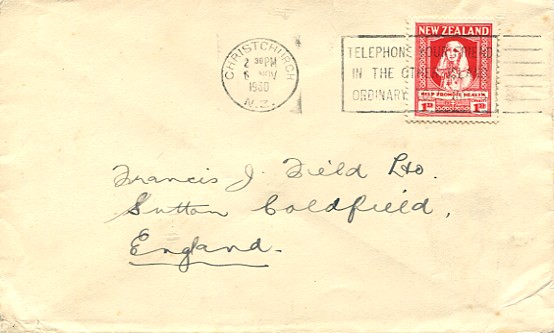 1930 Health on Cover
This example of the 1930 1d on a commercial cover is postmarked in Christchurch on 6th November 1930 (the week after it was issued) and is addressed to the UK.

---
The above information is taken from The Postage Stamps of New Zealand Vol 1, published by the Royal Philatelic Society of New Zealand in 1938. All scans were made by the author.