Pennyhalfpenny
The 1½d was first issued on 1 May 1935 perforated 14x13½ while an issue perforated 13½x14 was issued in November 1935. This is the so-called wet printing where the stamps were printed on dampened paper in an attempt to improve the impression.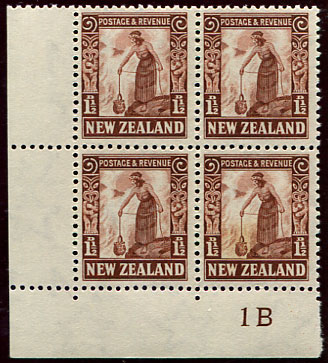 The first issue was on single watermarked paper while stamps with multiple watermark were issued perforated 14x13½ in June 1936.
There were two plates numbered 1A and 1B which each had 240 impressions.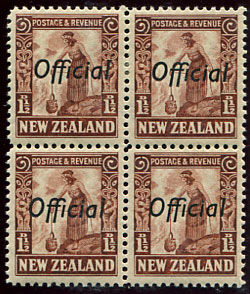 Stamps on single watermarked paper perforated 13½x14 were issued overprinted Official in March 1936 while overprinted stamps perforated 14x13½ with multiple watermark were issued in July 1936.
Stamps perforated 13½x14 have the appearance of being line perforated as can be seen in the Official block of 4. It was however a comb perforation.
The 1½d was replaced by the George VI definitive on 26 July 1938 and the remaining stamps were destroyed.

---
The above information is taken from The Postage Stamps of New Zealand Vol 1 and 2 published by the Royal Philatelic Society of New Zealand in 1938 and 1950. All scans were made by the author.